Try it for Free!
This page contains instructions on how to try out the puzzle hosting service on MyCrosswords.com using Crossword Weaver. The instructions below will show you how to put one puzzle on MyCrosswords.com for free.
1. To save a puzzle to your MyCrosswords.com account, open up Crossword Weaver, select the puzzle you want to put online and the click the "One Click Publish" button

on the tool bar. You can also use this feature by selecting the Export menu, then "One Click Publish to www.MyCrossword.com (interactive)."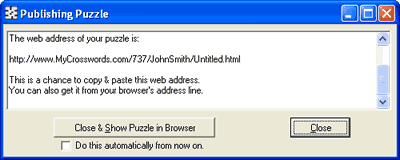 2. A box will appear showing you where your puzzles will be saved. Click "Close & Show Puzzle in Browser" and you will be able to play the puzzle immediately.
If you want to play the puzzle again, type your full account address into your web browser. For example, www.mycrosswords.com/737/JohnSmith/MyPuzzle.htm.
If you want to let others to play your puzzle, simply give them the same web address and they will be able to play your puzzle anytime.